NASA has released satellite images showing an unstable mountain slope in Alaska experts warn could trigger a devastating "mega-tsunami."
The mountain slope is located above a fiord called Barry Arm on Alaska's south coast, which lies around 60 miles east of Anchorage.
The slope is partially supported by the Barry Glacier, but this body of ice has retreated significantly over the past decade. As a result, the slope is becoming more unstable, a team of 14 scientists said in an open letter published in May this year on the website of the Alaska Department of Natural Resources, Division of Geological and Geophysical Survey.
The retreat of the glacier is creating the perfect conditions for the slope—which is moving slowly downhill—to collapse suddenly, causing a rapidly-moving landslide with the potential to produce a massive tsunami wave reaching hundreds of feet in elevation along the shores of Barry Arm and the adjacent Harriman Fiord.
While the timing of such an event is difficult to predict with accuracy, the scientists wrote in the open letter that it had the potential to happen at any time and is "likely" to occur within 20 years.
One of the scientists involved in the open letter, Chunli Dai from Ohio State University, used satellite images captured by the joint NASA-U.S. Geological Survey Landsat program in order to help determine that the mountain slope above Barry Arm was unstable and could trigger a huge tsunami.
"With the wider perspective from Landsat, the movement of the slope was impossible to miss," Dai said in a statement, referring to a comparison of satellite images captured in 2013 and 2016. "You can see a whole section of the mountain between Cascade Glacier and Barry Glacier slumping toward the water."
Between 2010 and 2017, the unstable slope moved forward by around 400 feet, although in the last three years it has only moved slightly, according to the researchers.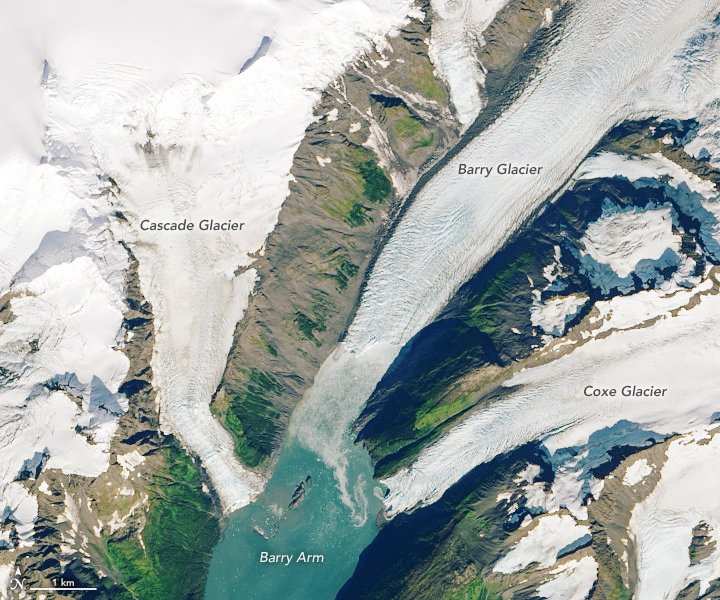 If you compare images taken by Landsat in 2013 and 2019 published by NASA's Earth Observatory, you can see the emergence of a scarp—a well-defined band of terrain where the slow-moving landslide has steepened the unstable slope. The scarp, which is slightly lighter in color than the surrounding areas in the images, defines the edges of the unstable slope.
In the open letter, the scientists found that the slope had actually begun moving downhill around 50 years ago, but this process accelerated significantly between 2009 and 2015, as the front edge of Barry Glacier was retreating. The retreat of the glacier, which has been linked to climate change, can clearly be seen in the satellite images.
"The slope probably sped up because the glacier that had been supporting the bottom of the slope retreated," geologist Bretwood Higman, another signatory of the open letter, said in a statement. "When warming temperatures caused that ice to retreat, the slope was free to move."